Low-Cost Online Payments
North America: $0.50/Transaction
For North American property managers, we offer ACH payments for a flat fee of just $0.50/transaction (compared to other vendors who charge $1 or percentage of transaction). Single, batch and partial payments are available. For tenants preferring to pay by card, card fees can be passed on in full or part to the tenant.
Europe: £0.30/Transaction
OpenBanking allows businesses to connect directly to European customer bank accounts, thus by-passing standard credit & debit payment processing gateways and fees. This is particularly important in the UK, where legislation prohibits merchants passing on card processing fees to consumers.
Eliminate fraud and related chargeback admin from stolen cards. No invoices arrive through e-mail to avoid phishing and APP (Authorised Push Payment) fraud.
There are no set-up, monthly or chargeback fees. Each transaction pays an all-in flat fee of £0.30.
End-to-end security means fraudsters cannot change the biller's payment details. Customers do not key in any data, nor share their bank details with us. When customers receive a payment request, they login directly to their own bank, using their own bank's Secure Customer Authentication (SCA) process, such as Face ID, to grant payment authorisation. The customer's bank instantly processes an irrevocable and direct payment to the biller's bank account. The biller is automatically notified of the settlement details and unique reference number for automated reconciliation.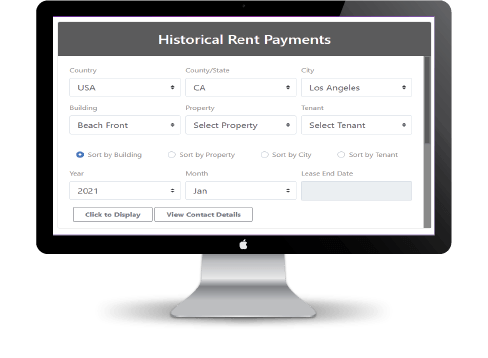 Payment Dashboard
View historical tenant, vendor and owner payments, split by region, city, building, single owner, multi-owner, asset manager or REIT.
Automated Reminders are sent when payments are overdue and for more serious cases a separate Arrears Management tool lets you view and manage tenants in arrears.
Also view historical Property Management Fees and Commissions, as well as other accumulated fee income from Maintenance Mark-Ups and slice by client, office or portfolio.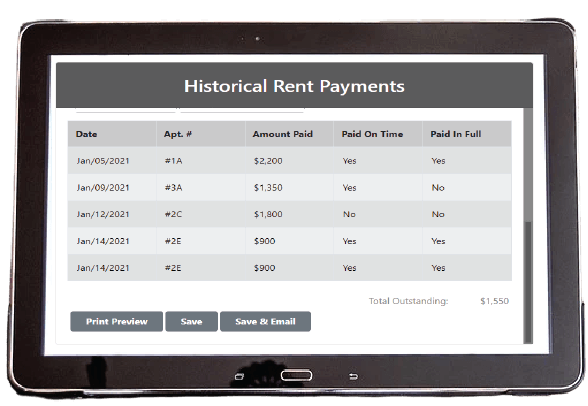 Historical Payments
In this instance we have selected to view all payments across a single building for the month of January. At a glance view which tenants paid in full and on time and the total outstanding for this particular building.
Gain insights and learn about current trends