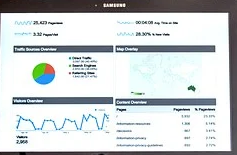 Reporting, Real-Time Data & Analytics
Access comprehensive, real-time reports. Each report is tailored for landlords, investors, property managers, as well as tenants. Owners receive detailed income and expense data, including maintenance and building expenses, while tenants can view rent, utility, late fee and damage payments received or overdue.
Property Managers are provided comprehensive reporting and analytics. Key data is highlighted in the dashboard home page. At a glance see vacancies, arrears, maintenance management, compliance alerts, messaging and open requests. Drill down to view outstanding issues by office, city, building, owner or tenant. Link to concierge to ensure buildings are running smoothly.
Gain insights and learn about current trends